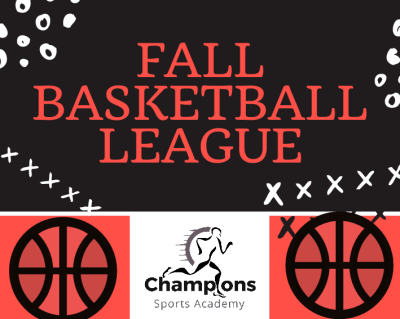 FALL BASKETBALL LEAGUE- 6TH-12TH
September 10, 14, 17, 21, 24, 28, 2020 / October 01, 05, 08, 12, 2020
Basketball Leagues
Varsity Boys (9th - 12th)
Varsity Girls (9th – 12th)
Middle School Boys and Girls (6th – 8th)
Duration: 5 Weeks
Cost: $85 (includes team t-shirt)
Games: Two Halves (20 minute running clock)

Dates:
Middle School Boys and Girls
Thursday(s)
Sept 10, Sept 17, Sept 24, Oct 1, Oct. 8
NOTE: with enough Girl participation we will split group!

Varsity Boys and Varsity Girls
Monday(s)
Sept. 14, Sept. 21, Sept. 28, Oct. 5, Oct. 12
*Maximum of 8 teams in each group with a maximum of 8 players per team*

Time: 5:30, 6:20, 7:10, or 8:00 (start time of the games each night will depend on the number of teams that we have)

Registration:
Last day to register: -- September 1st
You will be text after that date with your team schedule.
Register online at www.championsplayhere.com

NOTE:
Please only use the sibling discount if your are SIBLINGS (this is not intended as a friend discount- thank you)

We will try to accomdate each request, but player assignments are not guaranteed.